If you're looking at the stat lines, they'll show it was 2014 when the Mizzou vs Arkansas Battle Line Rivalry officially began, when Missouri and Arkansas squared off at Faurot Field. Rewind 57 seasons though, and some might argue that the Razorbacks fired the first salvo in 1957, when they hired first-year head coach Frank Broyles away from the Tigers.
The dominos for the Broyles saga were set in motion when Coach Don Faurot retired from Missouri after a 4-5-1 season in '56. As athletic director, he hired his successor from a list that included future Nebraska coach Bob Devaney.
"I was already 32, and thought the world had passed me by," Broyles once told the Arkansas Democrat Gazette. "had been an assistant coach 10 years and thought maybe I'd never get a chance to be a head coach. I went after the Missouri job as hard as I could."
Broyles liked his chances. He was a young assistant at Georgia Tech at the time and met with Faurot and the board of curators. "We were staying at the Tiger Hotel, and I said, 'Barbara, we have to make up our minds whether I want the job, because they are going to offer it to me in the next hour,'" Broyles said. "About 10 minutes later, the chairman of the board called and said, 'Let's have dinner,' and they offered me the job."
The History
Broyles signed a one-year contract for $12,000 and told administrators he could work under the so-called "Missouri Plan," limiting recruiting to in-state players. He had an immediate impact on the process, which included landing the program's first African American player, running back Norris Stevenson. "I never figured out what exactly led me to Missouri," Stevenson told me in a 2003 interview. "But I connected with the coaches."
Broyles' Tigers started the season strong before fading to 5-4-1. Still, it was the Tigers' first winning record in five years, and Faurot was impressed enough to offer a $1,000 raise and a one-year contract extension. But that wasn't before giving Arkansas Athletic Director John Barnhill permission to speak to his first-year coach.
You know the drill: Barnhill presented Broyles with a four-year deal and a $15,000 annual salary, a tremendous number some 50 years ago. The dominoes continued to fall in the Broyles saga, which ended well for both schools, thanks in part to "Devine" intervention. But hiring away another teams' coach was not common thread back then.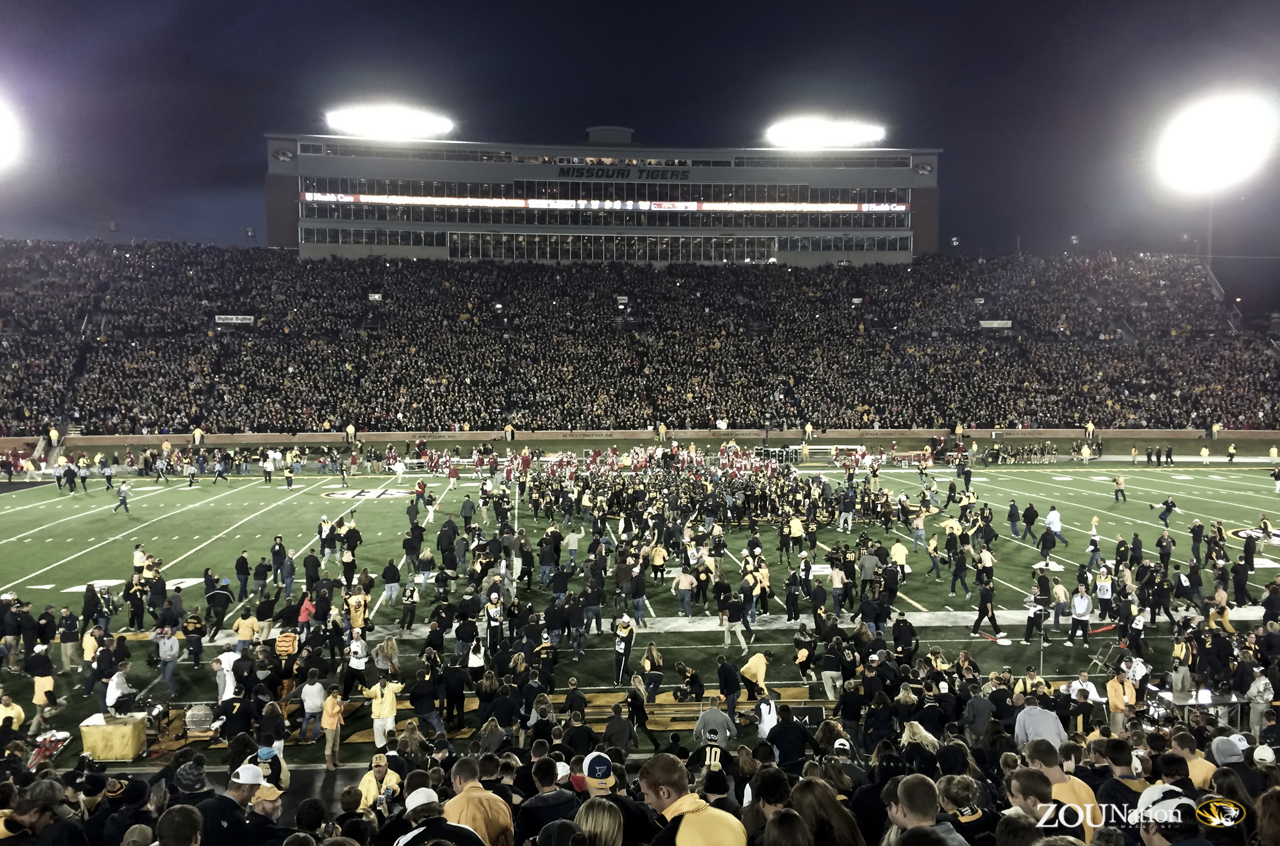 "Frank Broyles was a terrific coach," Kadlec said to me in an interview for Tales from the Missouri Tigers. "A lot of people held it against him because he left Missouri. He felt he had an opportunity at Arkansas. At that time, Arkansas was a little more football-oriented than Missouri, for some reason. They were putting more money into it, and he got a tremendous salary down there."
The decision also caught Missouri administrators off guard. Longtime beat reporter Bob Broeg wrote about this in his 1974 book Ol' Mizzou: A Story of Missouri Football.
"At the time, Broyles' decision to leave came as a shock to Missouri and as a blow to its pride," Broeg wrote. President Elmer Ellis didn't believe the news until Faurot and his faculty representative actually brought Broyles to Ellis' home, Broeg said. "Faurot was embarrassed."
Broyles leaves for Arkansas
The rest, as they say, is history. Broyles went on to win a national title in 1964 and coach Arkansas until '76. He became the school's athletic director until his retirement only nine years ago in 2007. As for Mizzou? Coach Dan Devine soon compiled a record of 93-37-7, and the Tigers were the winningest team in the nation for the most of the '60s.
"Both were outstanding coaches — that goes without saying," Stevenson says. "Both were disciplinarians, as any coach generally is. But beyond that, the style of play was different. I thought Coach Broyles was much more offensive-minded. Coach Devine came in and saw our limitations as a team offensively and just went to a defensive set. He used what he had."
If any lingering animosity existed among Faurot, Broyles and Devine, it wasn't apparent. "Dan was a good friend," Broyles said. "He used to kid me and say, 'Frank, you should have stayed. Look what I did with your players.'"
Today, Broyles much more than an interesting footnote to a fledgling rivalry. But to the people who knew him, he helped paved the way for success for the next decade and beyond.
"I know Frank Broyles would have had a tremendous career here at Missouri," Kadlec says.